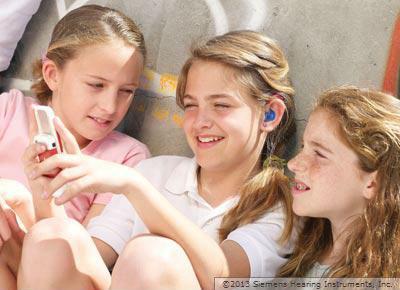 YOUR CHILD HAS BEEN DIAGNOSED WITH HEARING LOSS, WHATS NEXT?
One of the hardest parts of treating hearing loss in adults is getting them to admit they have the problem. For some, learning about the results of the test is a traumatic event. Because it is a difficult thing to acknowledge for mature people, imagine the pain of being informed that your otherwise perfectly normal child has a hearing loss and is not interacting adequately with the world around them. That is devastating news. In the not so distant past that meant heartbreak for the parents and a child confined to a life of disability and dependency. Today that is no longer the case.
A childhood diagnosis of hearing loss today is not the end of the world although it may seem to be at the time. Read about one San Francisco parents uplifting account of her experience with it inHillary Wittingtons story . Although Ryland's condition required a Cochlear Implant to correct, for many children with less severe but still serious hearing loss the solutions are numerous.
Children are as susceptible to denial of a hearing problem as adults, if not more so. There is the discomfort and life interruption associated with any major health issue. Then there's the social stigma assigned by insensitive and sometimes cruel peers, but much can be done to alleviate such problems. The hearing industry has come a long way in addressing the issue of social stigma. One of our manufacturers, Siemens uses Mickey Mouse in The Disney Kit which is designed to make wearing hearing aids fun for young children.
Another manufacturer, Oticon has many products and systems focusing on the child and teenager with hearing loss. Hearing loss hinders the natural process of acquiring speech and language. Ottos World of Sounds is a new multimedia-based auditory training program designed as a game that enables you to get involved in your child's auditory development at home.
There are other hearing instrument manufacturers that have pediatric programs as well. Bright colored hearing aids and even those with animal prints from Phonak help make children enjoy wearing their hearing aids. Fun accessories designed to keep the hearing aids on their ears and free from moisture are also available. Even a major comic book publisher, Marvel Comics has developed a character who wears hearing aids to encourage children with hearing loss.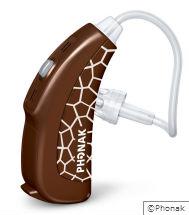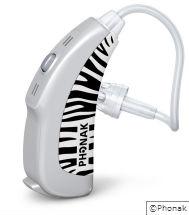 As you can see, there is help and hope for families with a hearing impaired child. When you suspect your child has a hearing loss it is important to address the problem right away so as not to permanently effect the development of speech and communication skills. The most important factor in dealing with childhood hearing loss is your choice of a hearing professional to assist you in determining what is best for your child. First the child should be seen by a physician to ensure the ears are free of cerumen (wax), infection and fluid. If all is clear a hearing test should be performed to determine the best method to treat it. If hearing aids are recommended, you can choose where to purchase them. Certainly, you might be able to purchase hearing aids from your audiologist; but you can also take that prescription to any independent local hearing instrument provider to order your hearing aids.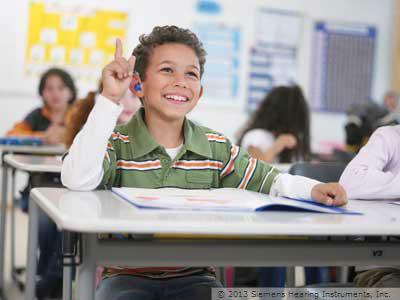 This is a big investment and you want to make certain you receive the best value for your money. Find out what the providers include with the purchase of their hearing aids. Do they include things like batteries ,cleanings, reprogramming, and emergency service? Will they let your child use loaner hearing aids should theirs need repair? How much warranty do you get on the hearing aids? All of these should be considered when purchasing hearing aids for your child.
No child should go without hearing aids if they need them. If finances are a concern there are several organizations that are waiting to help. Many hearing providers offer financing as well. If you suspect your child has a hearing problem get them the help they need.
By Susan L. Fenrich, BC-HIS* & President, Welsch Hearing Aid Company, Inc. *Board Certified in Hearing Instrument Sciences | WI-612-60
The content contributions of Welsch Hearing Aid Company should not be considered by anyone as a substitute for medical or other hearing health professional diagnosis, treatment, advice, or recommendations.