Live at Five Party!

KELOFM wants to invite you to an exclusive afterwork party, held the second Tuesday of every month from 5pm to 7pm.
What is Live at Five?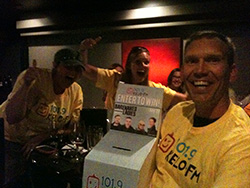 Every month WIN an invitation to the party for you and four of your friends, held at one of Sioux Falls' fine dining restaurants.
What to expect?
We'll provide hors d'oeuvres, beverages and entertainment. PLUS, you can win prizes from local sponsors.
How to Qualify
Listen to Andy and Christy in the morning and call the request line when prompted for your chance to win! Request line: 605-274-9250
Text to Win!
You can also qualify by texting the word "PARTY" to 35270. We'll notify you via text if you won an exclusive invite.