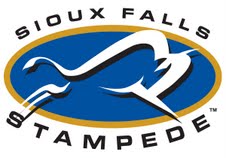 Sioux Falls, SD—The Sioux Falls Stampede are proud to announce that they are the recipients of 2012-2013 WILLETTE AWARD, presented by Sioux Falls Youth Hockey.
The WILLETTE AWARD is given in memory of Bill Willette. Bill was president of Sioux Falls Youth Hockey Association from 1977 until the time of his death in 1979 due to a car accident. Bill was one of the pioneers for youth hockey in this area due to his contributions to obtain the first indoor ice rink in Sioux Falls.
"The Sioux Falls Youth Hockey Association is proud to award the Sioux Falls Stampede with our corporate citizenship award for the 2012-13 season," said Mark Arndt, President of the Sioux Falls Youth Hockey Association. "The Stampede's new ownership group has been a great partner for youth hockey this year. They provided our skaters with extra ice time, and helped us with clinics and camps. They also helped us host a youth tournament at the Sioux Falls Arena in January. The Stampede's recent gift to the Scheels IcePlex demonstrates their commitment to youth hockey in Sioux Falls. We look forward to working with the Stampede to promote amateur hockey in Sioux Falls for years to come."
On March, 6th, the Stampede announced the club made a $100,000 donation to the ISA Chamber Community Appeals Campaign and will match an additional $100,000 community donation. Click here for more information.
"We are honored to receive such a special award," said Stampede President/CEO Tom Garrity. "Our ownership understands the importance to being part of a community and we want to be a big part of Sioux Falls Youth Hockey moving forward. There are several exciting things on the horizon for youth hockey in Sioux Falls and we want to help this program continue to grow and become even more successful."
The Stampede will look to clinch first place in the Western Conference when they return to action this weekend. On Friday, the Herd travel to Fargo to face the Force at 7:35 PM. Sioux Falls needs just one point to clinch first place and home-ice advantage in the first two rounds of the playoffs. The club returns home on Saturday when they host league leading Dubuque at 7:05 PM. The first 1,000 fans will receive a FREE Stampede playoff rally towel to cheer on the Herd to victory!
Courtesy: Sioux Falls Stampede