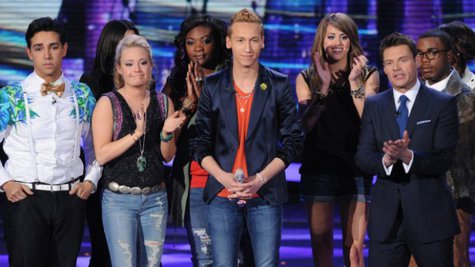 A week ago, judge Nicki Minaj told reporters that a male contestant had "absolutely" no chance of winning American Idol this year. And it does seem like things are going that way, considering that out of the seven contestants remaining, only two are boys. But the most recently ejected contestant now says that the guys knew they were doomed from the beginning: they didn't need Nicki to tell them.
"At this point, just seeing the ratio, it's reasonable to say a girl's probably winning this year," Devin Velez tells ABC News Radio. But the singer, who was booted from the competition last Thursday, adds, "The funny thing is that even when we were five and five, all the guys, we would look at each other...and we were just, like, 'Guys, a girl's probably winning this year....do you guys see how amazing these girls are?'"
So while Devin doesn't agree with everything Nicki says -- especially her decision not to save him -- he does agree with her prediction about the gender of this year's champ. "I think definitely a girl's winning," he tells ABC News Radio.
But where does that leave the two remaining male contestants, Lazaro Arbos and Burnell Taylor ? Why should they even bother to try, given that Nicki doesn't think they have a chance, and she's actually come right out and said on Twitter that neither of them will be saved if they end up in the bottom two?
"Just don't be in the bottom," Devin advises Lazaro and Burnell. "'Cause then it's up to the judges. But at this point, the judges, they don't have too much power. It's all America." So, he continues, "As long as you do your right performance, [and] remember your lyrics, I think America'll do their job if you do yours, and then you don't have to worry about the judges having to save you or not."
In other words, Devin says, no repeats of last week's disastrous train-wreck group performance, which he believes sent him to the bottom two and, eventually, out the door.
Despite being ejected from the competition, Devin says he's happy with what happened, because he didn't really want to win, believe it or not: he just wanted to make top 10 and go on the tour. As for why he chose American Idol over the many other talent competitions that are out there these days, he tells ABC News Radio, "The fact that the show's been on for twelve years and, I mean, Kelly Clarkson still has number ones on the radio, Carrie Underwood still has number ones on the radio....people that have won, like, years ago. If you follow the right steps...you can make it really far."
And those other shows? Devin says, "It's not that they're not good enough, it's just I think that because Idol has so much experience none of the other shows are gonna compare."
American Idol airs Wednesday and Thursday nights on Fox.
Copyright 2013 ABC News Radio