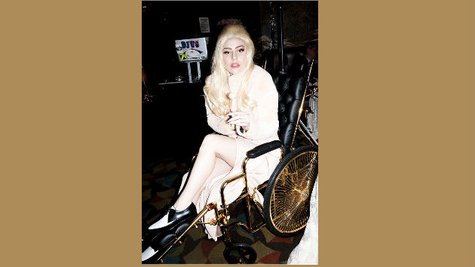 Since undergoing surgery to repair a tear in her right hip, Lady Gaga has been spotted rolling in a 24-karat-gold-plated black leather wheelchair and in a Louis Vuitton wheelchair. But now it appears as though the singer can actually walk -- at least a little.
The British paper The Daily Mail has published photos of Gaga in New York City walking into what the paper said was a Bikram yoga class earlier this week. In the picture, Gaga is not only walking, but she's wearing high-heeled pumps. These are normal shoes, mind you, and not the crazy, sky-high heel-less platform numbers she's sported on stage and in her videos. But according to the paper, when she left the class, she was back in her Vuitton wheelchair.
The following day, Gaga was seen being wheeled out of a building wearing a pink blouse and black slacks, hiding under an enormous floppy hat and glasses. The Mail has video of Gaga avoiding photographers' questions as she's loaded into a car.
Copyright 2013 ABC News Radio