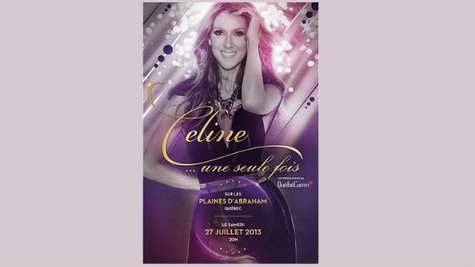 If you're planning to trek to Quebec this summer to catch Celine Dion in her only announced appearance outside of Las Vegas, details on ticketing for the show have now been announced.
As previously reported, Celine will return to her roots for a one-night-only concert at Quebec's famous Plains of Abraham battlefield on July 27 at 8 p.m. ET. Canada's CTV reports 60,000 concert tickets in all will be available for purchase, and according to Celine's website , fans who are members of her online fanclub, TeamCeline, will be able to purchase advance tickets beginning April 4 at 10 a.m. ET by logging onto the "My Account" page on their user accounts.
Tickets go on sale to the general public on April 6 at 10 a.m. ET. Including services and fees, ticket prices will range from $69 to $299 Canadian.
Dubbed "Celine... Une Seule Fois," or "Celine... One Night Only," the show will highlight the diva as she sings her biggest hits, but be aware: she'll be singing mostly French; about 20 percent of her performance will be in English.
As previously reported, the concert marks the first time Celine has performed at Plains of Abraham since her 2008 show when she celebrated Quebec City's 400th anniversary on the site of where the British and French battled in 1759.
Copyright 2013 ABC News Radio