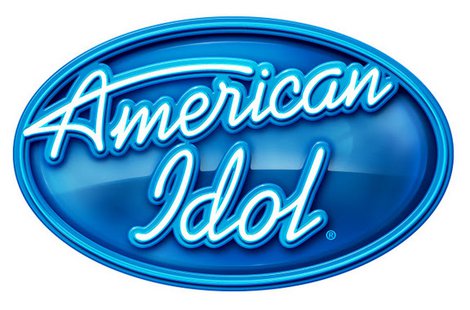 American Idol saluted rock music Wednesday night with the seven remaining finalists showing off their rougher sides. Judges Keith Urban , Nicki Minaj , Mariah Carey and Randy Jackson were on hand to offer their thoughts, and female rock guitarist Orianthi was on hand to back the contestants up. Here's what happened:
Burnell Taylor kicked the night off with Bon Jovi 's "You Give Love a Bad Name," and he managed to put a little rock edge in his vocal performance. Keith complimented Burnell on the kick he did on the last beat, but he said Burnell had never looked more uncomfortable onstage this season. Keith encouraged Burnell to make these songs his own, and Nicki said Burnell reminded her of a little "Teddy Ruxpin" bear from the 1980s. She encouraged him to be himself no matter the song. Randy told Burnell he needed to sing on the beat with this type of song, but Mariah was proud of the way Burnell had fun with the performance. It turns out "You Give Love a Bad Name" was the only song Burnell knew on the list of songs the contestants could sing this week.
Next up, Lazaro Arbos and Angie Miller teamed up for a duet of Queen 's "Crazy Little Thing Called Love," and Lazaro flubbed the lyrics towards the end of the performance. Nicki said it was "nice," but she called out Lazaro on forgetting the words again. Nicki and Randy both thought Angie sounded amazing on the song, but Randy said it started out rough for Lazaro. Mariah told Lazaro he needed to show up for his duet partner, but she didn't like this song for the two of them together. Keith called it "too kitschy" and "variety showish."
Kree Harrison , who the rest of the contestants refer to as their den mother, sang Janis Joplin 's "Piece of My Heart," and her vocals were spot on yet again. Randy felt like this was the first real performance of the night, and he loved this bluesy side of Kree. Mariah said Kree has an innate ability to pick the right songs and this was possibly her favorite Kree performance ever. Keith noticed that Kree was having a little trouble moving around onstage, and Kree admitted she was suffering from a pinched nerve. Keith then applauded her on her professionalism. Nicki said it was "magnificent" and added she would give all of her votes to Kree tonight. Of note, Kree was born in the same hospital as Janis Joplin, and her grandmother actually went to school with the late rocker.
Candice Glover and Burnell sang "The Letter" by The Box Tops , and they created some pretty soulful and magic moments between them. Mariah loved that they didn't compete with each other on their vocals, and Keith had high praise for both Burnell and Candice too. Nicki was in awe of Candice's performance, and she noted that Burnell was much better on this song than during his solo turn. Randy was floored by Candice too, and called both of their performances "brilliant."
Janelle Arthur put her country spin on Billy Joel 's "You May Be Right" while wearing rhinestone boots and a gold fringe vest. Keith loved the boots and complimented Janelle on working the stage like a pro. He didn't love this song for Janelle, but said she keeps getting better every week. Nicki asked to borrow Janelle's boots and said she was very relatable to the middle American audience. Nicki also said Janelle's country roots showed through, and Randy said he felt like he was at Janelle's concert. He also wanted to borrow Janelle's vest. Mariah loved the key Janelle sang "You May Be Right" in because it brought out her vibrato. After the break, Nicki was wearing Janelle's boots, and Randy had the fringe vest wrapped around his shoulders.
Lazaro returned to sing the night's second Queen song, "We Are the Champions," and he kept the intensity going throughout the performance. Nicki said the performance gave her "Hispanic tease" and called it "crack juice." She said Lazaro did it justice. Randy said he did a good job with it, and Mariah thought it was a great choice. Keith applauded Lazaro for choosing a song that played to his flair for the dramatic.
Amber Holcomb joined the returning Janelle and Kree for a trio performance of "It's Still Rock & Roll to Me" by Billy Joel. Randy loved the three of them together and said they sounded like a real group. Mariah liked their vocal blend, and said she didn't know how America would choose between the three of them. Keith wanted to see more from this trio. Nicki hated the song choice and "cheesy" performance, but she said Amber was giving "Naomi Campbell realness" with her look on this performance.
Candice revealed she broke her toe this week while playing an April Fools' joke on Lazaro, so she didn't move around much while singing The Rolling Stones ' "(I Can't Get No) Satisfaction)." Mariah said the performance showed yet another side of Candice, and Keith loved how Candice's vocal power never wanes even on the high notes. Nicki loved Candice's voice, but said she fell asleep during this song. Nicki then proceeded to boo herself for that comment before the audience could do it for her. Randy liked how Candice brought a Tina Turner -style to her performance.
Amber came back to deliver Heart 's "What About Love" and earned a standing ovation from all four judges. Keith called it a great song choice that brought out the best in her voice. He also loved Amber's shoes. Nicki recalled doing a freestyle rap over "What About Love" on a mixtape a few years back. Nicki added that Amber's performance and look just drew her in and melted her. It was Nicki's favorite performance of the night. Randy liked that Amber was showing off her legs, and he said she didn't lose herself in this big song. Mariah liked that Amber kept her natural vocal inflections and kept growing in the competition. Of note, Amber's sister, who serves in the military, was in the audience.
Angie closed out the evening sitting at the piano for a performance of Evanescence 's "Bring Me to Life." She came out from behind the piano after the intro to take center stage, and the wind machine blowing on her added to the song's natural drama. Nicki loved Angie's all-black look, and called the song choice perfect for rock week. Randy thought Angie's voice was a great fit for this kind of edgy song. Mariah agreed the song was a perfect match for Angie. Keith warned Angie that she needed to really feel her way through this kind of song.
This week's results will be revealed on American Idol Thursday night at 8 Eastern on FOX. Former Idol champ Carrie Underwood will perform her single "See You Again," and Casey James will also return to the show.
Copyright 2013 ABC News Radio