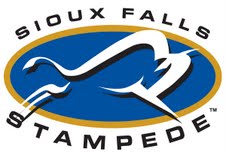 Sioux Falls, SD (KWSN)—The Sioux Falls Stampede announced today that individual game tickets for Game 1 and Game 2 of their first round playoff series will go on sale Monday, April 8th at 10 AM at the Sioux Falls Arena Box Office or any Ticketmaster location.
Game 1 will take place on Tuesday, April 16th at 7:05 PM and Game 2 will be played on Wednesday, April 17th at7:05 PM. Should there be a Game 5, that game would take place on Tuesday, April 23rd at 7:05 PM. Tickets for Game 5 will only go on sale if necessary.
The Herd will likely face Waterloo or Lincoln in the first round. The Stampede need just one point tonight in Fargo to clinch home-ice advantage for the first two rounds of the playoffs. Waterloo currently sits in the fourth spot, but trail third place Lincoln by just three points and second place Fargo by seven points with five games remaining.
Tickets prices for the first two games of the playoffs are $9, $15 and $17, depending on location. Season ticket holders and E-Z ticket book buyers can still take advantage of a special savings by contacting the Stampede office at 336-6060.
The Stampede return home to the Sioux Falls Arena tomorrow (Saturday) night at 7:05 PM when they battle league leading Dubuque. The first 1,000 fans through the doors will receive a free Stampede Playoff Rally Towel! Tickets are available through the Sioux Falls Arena Box Office or visit www.sfstampede.com for more information.
1st round schedule
Game 1: Tues., Apr. 16 @7:05 PM (Sioux Falls Arena)
Game 2: Wed., Apr. 17 @7:05 PM (Sioux Falls Arena)
Game 3: Fri., Apr. 19 @TBA (TBD)
Game 4: Sat., Apr. 20 @TBA (TBD)
Game 5: Tues., Apr. 23 @7:05 PM (Sioux Falls Arena)
Courtesy: Sioux Falls Stampede