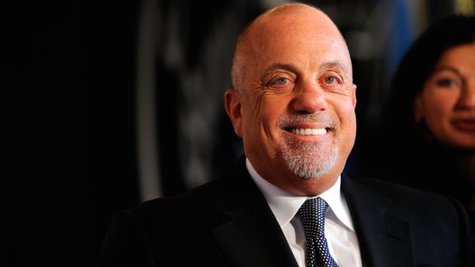 Billy Joel is doing some festival performances this month, and he tells Rolling Stone that if he's happy with them, he'll do more concerts....which may feature him performing his classic albums in their entirety.
"I'd like to do more songs that weren't hits," he tells Rolling Stone . "I got tired of doing the greatest hits set. It was boring playing the same songs over and over. There are a lot of songs the longtime fans want to hear." He adds that what he has in mind is a series of performances in big cities like New York, Philadelphia, Washington, D.C., Detroit and Chicago, where he'd "do one album and then play some obscurities."
As for the kinds of "obscurities" Billy says he'd like to play, he mentions "Surprises," "She's Right on Time" and "Laura," all from his 1982 album The Nylon Curtain, as well as "Sleeping with the Television On," from 1980's Glass Houses .
But Billy says he realizes he'll have to play some hits. "There has to be a balance between stuff people are familiar with and stuff they don't know," he says. "I don't have any new material. But if I realized that if I play older material that has never been heard before...that's almost the same as doing a new song. I Just don't want to be an oldies hack where I'm just playing songs everybody is familiar with."
Another live option for the Piano Man is teaming once again with the Rocket Man. Billy and Elton John 's past Face to Face joint tours were very successful, and Billy says he won't rule out reuniting with Elton, though Elton did publicly slam him in Rolling Stone in 2011.
"It's absolutely possible I'd play with Elton again. Sometimes he runs off at the mouth. But...I haven't even heard from him since [he gave that interview]. I guess that 'Sorry Seems to Be the Hardest Word,'" laughs Billy. "But I would always work with him again. I still love the guy. He's a great guy."
The most important thing, says Billy, is that he's not going to retire, as has been reported. "I said I'd consider retiring if I didn't think I could do it well anymore. I never said I intended to retire," he explains. "I was just kind of wondering, 'Gee, I wonder what happens when a musician gets to a point where he realizes he's not as good as he used to be?'"
He adds, "I just want to put those rumors to rest because people keep asking me if I'm going to retire...I just love the game too much to not play it well."
Copyright 2013 ABC News Radio