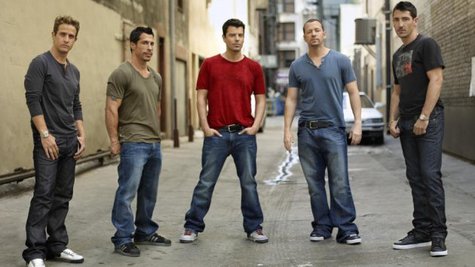 New Kids on the Block fans were disappointed Thursday night in New York when group member Jonathan Knight left the stage halfway through and didn't return, reports Billboard .
During the show, which celebrated the release of the boy band's new album, 10 , Billboard reports that Jonathan was out of synch with the group, sticking to the back of the stage, not joining in on certain dance moves and appearing distracted. The rest of the group appeared to try to comfort him, but when Jonathan stepped up to the mic for one of their new songs, Billboard reports he "attempted" to sing, stopped and left the stage.
Fans chanted his name, asking him to come back, but Jonathan failed to re-appear. The rest of the group joked about his absence, but finally, Joey McIntyre told the crowd that Jonathan would be fine, and that "we love [him] and he loves us." After the show, Jonathan tweeted , "I'm sorry."
Jonathan has had well-documented struggles with anxiety and panic attacks for years, which could serve to explain his behavior. Before the show, the New Kid had tweeted , "#ifeelnaked," but it's not clear if that described his mental state, or whether it simply referred to his new haircut, which he'd previously mentioned.
NKOTB's Package Tour with Boyz II Men and 98 Degrees is set to kick off May 28 in Connecticut.
Copyright 2013 ABC News Radio