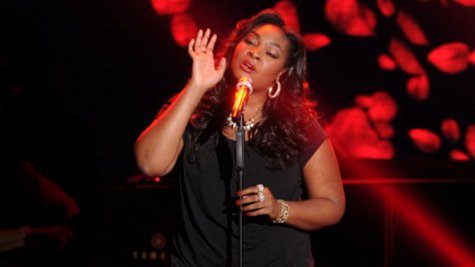 On Wednesday night's installment of American Idol, Candice Glover brought the house down with a rendition of The Cure's "Lovesong" that Randy Jackson called one of the greatest performances in the show'shistory. Judge Mariah Carey was so impressed that she literally ran onstage and threw glitter on Candice. So what was that all about? The contestant says she's not really sure.
"I don't know why she had that!" Candice told E! Online . "But [the glitter] was in this little box and she gave me the box. She was like, 'This is what I carried it in, dahhh-ling.' I was like, 'Uh, ok.' But if Mariah Carey throws glitter at you, it must be something good!"
Candice still can't get over the fact that an artist who she admired so much as a child is now not only aware of her, but thinks she's amazing. "I remember being in sixth grade and getting in trouble in the hallway for singing Mariah Carey songs too loud," she tells E! "And now she's hugging me and telling me she loves me."
It's not just newbies like Candice who worship Mariah. Original American Idol Kelly Clarkson is quaking in her boots over her performance on tonight's results show. "Okay. Tomorrow I'm performing at Idol in front of @MariahCarey," she tweeted on Wednesday night. "Pray for me. #PleaseDearGodDontLetMeSuck :)"
But Mariah made Kelly feel better by responding, "Come on Kelly, you're always #pow ! I can't wait to see you, you're so talented! x0x0 #L4L" A thrilled Kelly replied , " holy crap you tweeted me," and added the hashtag, "#ijustbecamewaycooler :)."
Copyright 2013 ABC News Radio