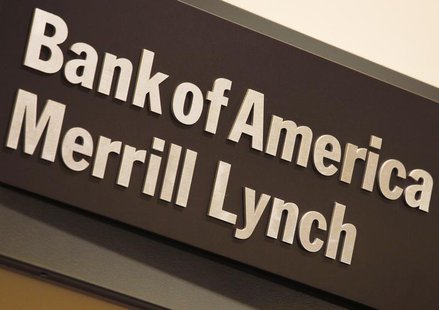 NEW YORK (Reuters) - Investors worldwide poured $1.5 billion into corporate loan funds based in the United States in the week ended April 10, a weekly record showed, according to Bank of America Merrill Lynch.
Bank of America Merrill Lynch, citing figures from fund-tracking firm EPFR Global, also said on Friday that U.S.-based loan funds' assets under management have grown by 23.5 percent, or $18 billion, so far this year.
That year-to-date inflow exceeds the cumulative inflow into loan funds of $11.5 billion during all of 2012, the report said.
Bond managers, including Kathleen Gaffney of Eaton Vance, have called syndicated loans an "easy trade-off" for pricey junk bonds. In addition to higher standing in the capital structure, an important edge in case of bankruptcy, they are better protected from rising interest rates because they are generally pegged to floating-rate benchmarks. In comparison, the value of fixed-rate securities is hurt by rising rates.
U.S.-based high-yield "junk" bond funds attracted just $62 million in new cash over the week, while high-yield funds based outside of the U.S. had outflows of $212 million. U.S.-based funds that hold investment-grade bonds, which are perceived as safer than high-yield, gained $96 million in the latest week, the weakest inflow so far this year.
(Reporting by Sam Forgione; Editing by James Dalgleish)