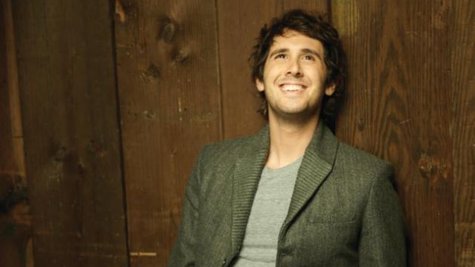 Josh Groban used to date Mad Men star January Jones , but he hasn't been spotted with anyone, famous or non-famous, lately. The singer admits, though, that he's actively searching for Ms. Right.
Speaking with Yahoo! New Zealand , Josh says, "I'm looking for love. I haven't found it at the moment...I've met some wonderful women in my life and have had some very lucky relationships, but when you're traveling as much as I am it's really hard to get to know somebody that way."
So what kind of girl is Josh looking for? It's hard to say. Asked if he prefers blondes or brunettes, he refuses to be pinned down, saying, "Oh you're getting me in trouble here. The immediate thing that comes to mind is brunettes but more than half of my relationships have been with blondes. I really don't have a type."
O.K, then, who's his ultimate celebrity crush? That should give an indication of what sort of woman he's looking for, right? Well, no -- he says it's a woman who died in 2008: 1950s-era pin-up model Bettie Page .
"She was basically the woman all the World War II soldiers painted on their airplanes. I think that [era] was the greatest sexiest style," Josh explains. But is there anyone out there who's still alive?
"There are a few but I'll probably run into them at some point, I can't get myself into trouble," Josh laughs. "I actually might have a chance with them."
Josh is in Australia for the first leg of his tour in support of his #1 album All That Echoes . After that, he heads to Europe; he won't be back in the U.S. for concerts until July.
Copyright 2013 ABC News Radio