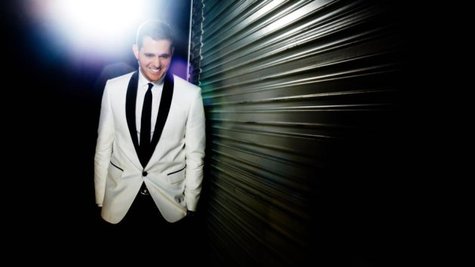 When choosing a name for your baby, it's always important to avoid giving the kid one that'll get him teased in school. But Michael Buble says he's having a hard time explaining this concept to his pregnant wife, who keeps on coming up with bizarre names because she likes the way they sound.
Appearing on Britain's The Graham Norton Show , Michael said of his wife Luisana , "She's killin' me, man. Because she's Argentinian, we fight about the names." Michael claims that she chooses names that "sound beautiful" when pronounced with a Spanish accent, but that make no sense.
"She'll say to me, like, 'You know what's a good name, Mike? Dirt. Dirt Buble," Michael said, as the crowd laughed. "She says 'It's beautiful! In Spanish, it sounds so good!'" Michael also claims she's asking for names like "Usiel" and "Jamiel."
And as if that isn't bad enough, Michael says that even though he's a world-famous singer, he totally messed up the whole "singing to your baby in the womb" thing. He says that early on in Luisana's pregnancy, he tried it, only to be told by her, "What are you, stupid? The baby's two months! It has no ears to hear you!"
Michael and Luisana's baby is due later this summer. His new album, To Be Loved, is due on Tuesday.
Copyright 2013 ABC News Radio