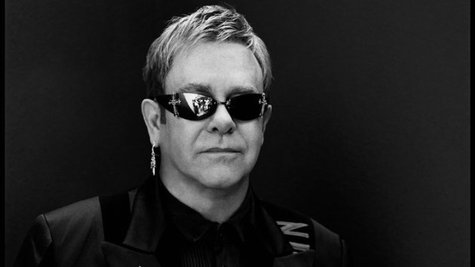 Earlier this year, Elton John 's spokesperson denied a report in a Brazilian paper that the singer requested an entire hotel room just for his glasses. But now comes word that at an upcoming British festival, the star will have a separate dressing room...just for his stage outfits.
Elton is one of the headliners for Bestival , an annual music festival that will take place on Britain's Isle of Wight this September. The festival's organizer, a BBC Radio 1 deejay who goes by the name Rob Da Bank , told the Daily Star , "It wasn't too complicated to get Elton booked: no diva-ish antics or crazy demands." That being said, Rob added that because the artists who play the festival are encouraged to dress up in costumes, Elton needed some extra space.
"Elton's outfits will have their own dressing room," said Rob, adding, "He's fond of dressing up in outlandish outfits, and so are Bestival people, so they'll get on like a house on fire." This year's festival has a nautical theme, so perhaps we'll see Elton wearing some sort of sailor suit, or perhaps a yachting cap and blazer.
Elton is the most veteran act on the bill for this year's Bestival, whose lineup is mostly made up of younger alternative rock bands and hip-hop acts like Snoop Dogg .
Copyright 2013 ABC News Radio