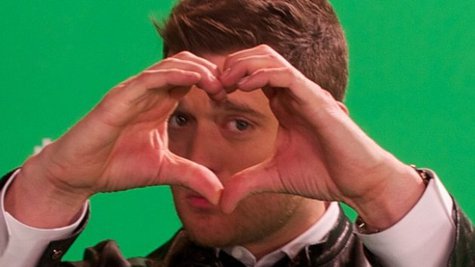 Michael Buble has sung with some pretty impressive artists in his career, but on his new album To Be Loved , he got to work with someone he says he admires more than anyone: fellow Canadian Bryan Adams . In fact, Michael pretty much worships the guy.
Speaking to the Toronto Sun , Michael gushes about getting to co-write and sing "After All," one of the songs on To Be Loved, with Bryan. "He was an idol of mine growing up," admits Michael, noting that the first album he ever owned was Bryan's Reckless. He says the fact that Bryan was from Vancouver, just like him, and managed to become a huge international star, gave him hope that he could do it too.
Singing with Bryan on the record is "truly one of the great moments for me in my career so far," Michael tells The Sun , and adds that he literally halted the session to tell the veteran singer how much he loves him.
"I actually stopped in the recording with Bryan and I said, 'Bryan, I don't ever do this, but I promised myself I'll live in the moment and be more present,'" Michael recalls. "And I said, 'I just got to tell you, buddy, that this is huge for me, because you were my idol. And to come full circle and get to sing with you on this song and to get to write with you...is a dream come true.'"
Michael said it was "kind of weird" that he told Bryan all that because it wasn't as if they had never met before: in fact, they're friends, and have the same manager. "But, at the same time, I feel it needed to be said," he adds. No word on how Bryan responded to Michael's gushing.
Copyright 2013 ABC News Radio