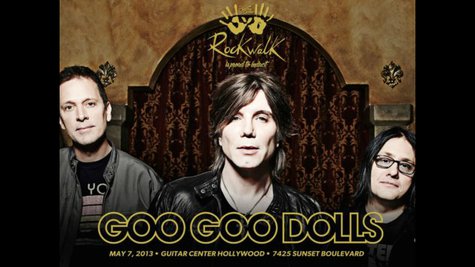 The Goo Goo Dolls will join rock royalty on Guitar Center's RockWalk next month. Johnny Rzeznik and the guys will be inducted into the music retailer's RockWalk during an invitation-only event on May 7 at noon in Hollywood, CA. The band's longtime producer Rob Cavallo will be on hand to deliver a welcome address and recount the band's accomplishments.
"We are thrilled to have been selected for induction to Guitar Center's RockWalk," said Johnny in a statement. "It's an honor to be here with all these musical legends."
When he says "legends," he's not kidding: some of the other acts that have been inducted into the RockWalk include Aerosmith , Carlos Santana , Stevie Wonder , Van Halen , AC/DC , Run-D.M.C ., Queen and many more.
Guitar Center's RockWalk, inaugurated in 1985, is located on Sunset Boulevard. Each year's inductees are chosen by past honorees.
The induction comes as the Goo Goo Dolls gear up to release their new album Magnetic , due June 11, and hit the road with Matchbox Twenty for a summer tour.
Copyright 2013 ABC News Radio