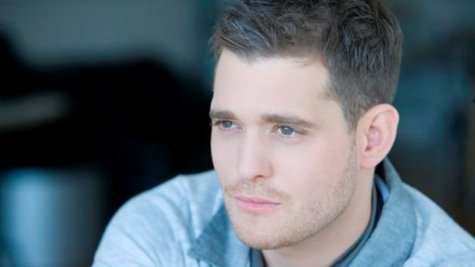 It was a great night for Michael Buble fans Wednesday. The singer spoke to ABC's Nightline about how his life has changed since getting married and preparing for a baby; about making music; and why he asked Reese Witherspoon to sing a duet with him on his new album.
"I think there was a fire in me that, in my life, is unmatched," said Buble in an interview with Nightline's Cynthia McFadden . "I don't think that I've ever met anyone who was as hungry as I was."
Buble has a couple of things going on in his life to stoke that fire: he released his new album, To Be Loved , Tuesday, and he's married to 25-year-old Argentinean actress Luisana Lopilato . They are eagerly expecting their first child, a baby boy, this summer, so Michael has already cut back on some tour dates.
Buble and his wife plan to have the baby in Canada and to secure him Canadian, Argentinean and Italian citizenship -- both Michael and Luisana also have Italian citizenship. But when it comes to baby names, the two say they can't agree on whether to pick a Spanish or English name.
"One of my favorite singers growing up was named Vaughn Monroe ," Buble said. "I love Vaughn and I love Vaughn Buble, but it is out."
While the couple is excited to create a family together, making an album together is not on the horizon.
"I think never," Buble said. "Someone wanted me to record with her on this record [ To Be Loved ] and I was like, 'uh uh.' See, it's funny: I love having my wife here...yet I think that working together in that way is terribly cringe-y."
But Michael did do a collaboration on To Be Loved with another famous actress. After watching Reese Witherspoon play June Carter in the Johnny Cash biopic Walk the Line , Buble said he fell in love with the actress's voice and asked her to sing a duet with him on his new album. The two sing together on the sad, romantic song "Something Stupid," which Buble said is one of his favorite tracks on the album.
"I thought [Witherspoon] had a really wonderful dulcet sweet tone," he said. "She really understood the subtext of that song ['Something Stupid']...and when she sang it she believed it, and when you believe it the audience has to believe it."
Witherspoon recently made headlines when she was arrested for disorderly conduct after she became upset her husband was pulled over for driving erratically. Witherspoon later publicly apologized for her behavior. Buble said he thought she handled herself with poise. "I only hope that if I get into trouble, and when I get in trouble, that I handle myself with such grace and dignity," he said.
So what is next for Michael? Obtaining something he says he will never get.
"I will never get critical acclaim," he said. "There's nothing cool about liking a guy who's sold 40 million records. It's cool to like someone who's sold 5,000. Who's the indie star, who's the underdog. That's cool, that's hip. I just need to take solace in the fact that I don't make records for the critics. I make records for people, and the greatest review I can get is when somebody pays their money across that counter and buys one of my records. And that's something that I can live with."
Copyright 2013 ABC News Radio