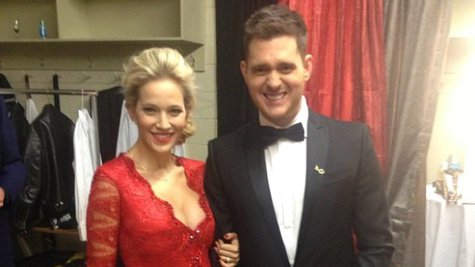 When Michael Buble 's baby son arrives in August, he'll be thrilled, but maybe not as thrilled as he'd initially hoped. That's because he's admitted that he was hoping his first child with wife Luisana would be a girl.
Appearing on NBC's Today show on Friday, Michael was asked what his reaction was when he found out his baby would be a boy. "Truly, I hope it's healthy, don't care if he's gay, straight, doesn't matter, as long as he's happy, but I had secretly hoped for a girl."
Why? "Girls are always daddy's girls," he explained. "Girls never leave dad, they're always daddy's girls. Boys, by the time he's 16, he's gonna want nothing to do with me." Michael said that was certainly true of him: he wasn't close with his own dad growing up because he was, as he put it, "a rotten kid." Now, however, he says they're "so close."
Michael had previously spoken about how he and his wife argue about what to name Baby Buble. So far, they still haven't revealed any picks, though Michael says a name he loves -- Vaughn -- has been shot down.
In other Buble news, look for Michael to perform on the Dancing with the Stars results show Tuesday night on ABC. He'll be performing "Come Dance with Me," a song from his new album To Be Loved.
Copyright 2013 ABC News Radio