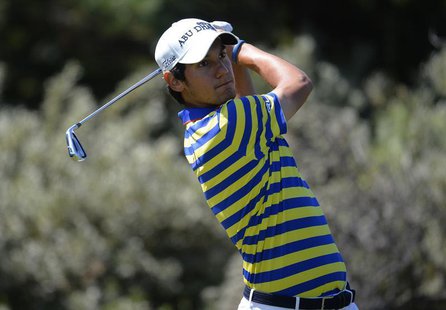 By Mark Lamport-Stokes
AKRON, Ohio (Reuters) - Italian golf sensation Matteo Manassero may have missed the cut in the first three majors of this season but the 20-year-old rates his 2013 campaign overall as the best of his burgeoning career.
In May, he became the youngest winner of the European Tour's flagship BMW PGA Championship, earning his fourth title on the circuit, and aims to end the year with a flourish after showing signs of solving recent problems with his driving accuracy.
Manassero produced good form from tee to green in the opening round of this week's WGC-Bridgestone Invitational, an ideal time for his game to turn around with the season's final major, the PGA Championship, starting at Oak Hill next Thursday.
"I've hit some fairways, I've hit some greens and I've put some balls close on this tough golf course which is pretty long," Manassero told Reuters after starting out with a one-over-par 71 at Firestone Country Club.
"I wasn't all that comfortable with my putting but I am happy with what I have seen overall," said the Italian, who hit 10 of 14 fairways in the first round. "If I can keep it up for three more days, it's definitely going to be a good week."
Manassero, who was tied for 31st in an elite field of 73 heading into Friday's second round at Firestone, said he had no concerns over his recent struggles for form with the PGA Championship fast approaching.
"No, I have already seen improvements here at Firestone and that's what I need to see," the world number 27 added. "I am happy to have played some good, steady golf here."
Asked what had been the main reason for his missed cuts at the Masters, U.S. Open and at last month's British Open, Manassero replied: "Probably my driving. I was not swinging well and so I was losing the driver and not hitting enough fairways.
"When you don't drive it well in majors, then you try to save yourself with the putter and at times it doesn't work and you miss the cut. That's about it."
CONFIDENCE BOOST
Manassero, who announced himself as one of golf's brightest prospects by winning the 2010 Castello Masters as a 17-year-old just months after turning professional, said his victory in May at Wentworth had been the biggest confidence booster of his career.
"That was a great week and I am really proud of winning the flagship event," Manassero smiled as he reflected on his achievement of becoming youngest player to clinch the BMW PGA Championship in its 58-year history.
"It was almost a major-quality field. We were missing the Americans but all the top Europeans were there.
"Winning that gives me a lot of confidence for the majors, more than anything else. If you win a big event like that, then you know in yourself that you are competitive."
Though the swarthy Italian has not played particularly well on the U.S. PGA Tour this year with three missed cuts in seven starts, he believes his 2013 campaign has been a great success due to his performances in Europe.
"For sure, it's been a good season," said Manassero who has recorded three top-10s in 16 starts on the 2013 European Tour. "It's been busy. I've played a lot of golf so lately I haven't been fresh enough to be able to compete at my best.
"My mind, at times, goes off just because I am a little tired. But I will have to cope with it. It's two more weeks and then I'm going to take quite a big break and get fresh again. Overall the season has been the best of my life."
(Reporting by Mark Lamport-Stokes; Editing by Julian Linden)