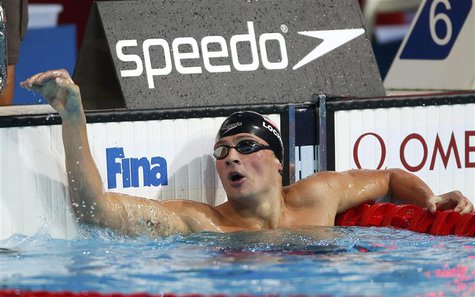 BARCELONA (Reuters) - American Ryan Lochte won the third 200 meters backstroke gold of his career at the world championships in Barcelona on Friday.
The decorated 28-year-old clocked a time of one minute 53.79 seconds, with Radoslaw Kawecki of Poland taking silver in 1:54.24 and Lochte's compatriot, Olympic champion Tyler Clary, bronze in 1:54.64.
Lochte, who won 200 meters individual medley gold on Thursday, is only the second man to win three 200 backstroke titles after compatriot and world record holder Aaron Peirsol, who won four in 2001, 2003, 2005 and 2009.
Lochte was champion in 2007 and at the last world championships in Shanghai two years ago.
(Reporting by Iain Rogers, editing by Ed Osmond)