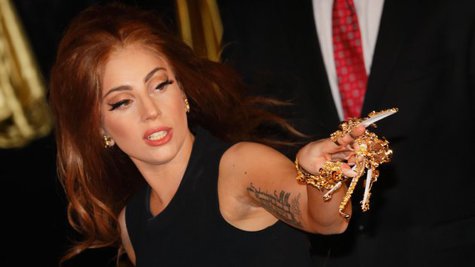 Lady Gaga is not a fan of Russia right now, and it's not just that the country is considering prosecuting her and Madonna for allegedly performing there without the correct visas. She's unloaded on Twitter, slamming the Russian government as "criminal" for its poor treatment of gays and lesbians.
As previously reported, Gaga and Madonna both ran into trouble when they performed in Russia last year because of the so-called "anti-gay propaganda law" in the city of St. Petersburg. After both singers spoke out in favor of gay rights on stage, the official who wrote the law tried to have them prosecuted, unsuccessfully. While they were being investigated, the visa issue was discovered.
Since the two singers performed in Russia, a federal law against so-called "gay propaganda" has been passed in that country. According to the BBC , a recent poll revealed that nearly half of Russians believe that gays and lesbians shouldn't have the same rights as other citizens.
Now, Gaga writes on Twitter, "Sending bravery to LGBTs in Russia. The rise in government abuse is archaic. Hosing teenagers with pepper spray? Beatings?...The Russian government is criminal. Oppression will be met with revolution. Russian LGBTs you are not alone. We will fight for your freedom."
She ended by tweeting, "Why didn't you arrest me when you had the chance, Russia? Because you didn't want to answer to the world?"
Copyright 2013 ABC News Radio