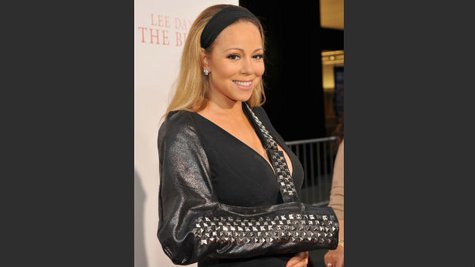 Mariah Carey isn't letting a dislocated shoulder cramp her fashion style. The diva hit the red carpet in New York City on Monday night with her arm in a sling -- a fashion-forward, leather-studded sling, which matched her little black dress.
Mariah, who dislocated her shoulder last month during a video shoot, has been undergoing intensive physical therapy ever since. At a New York screening of her latest movie, Lee Daniels' The Butler, she told E! Online that she'd been for X-rays earlier in the day, and joked that she's had "more MRIs that the guy who invented MRIs."
Her husband Nick Cannon , meanwhile, joked that his wife had "a sling for every outfit," and he's not kidding: when she attended an earlier press conference for the movie, she was sporting a black lace sling. And when she performed in New York's Central Park last month, she wore a white sequined sling.
In Lee Daniels' The Butler , Mariah plays Hattie, the mother of the main character, who grows up to become a butler in the White House, serving seven presidents. She's only in the movie for the first ten minutes and is far from her glamorous self, just like her character in director Lee Daniels ' previous film Precious.
Copyright 2013 ABC News Radio