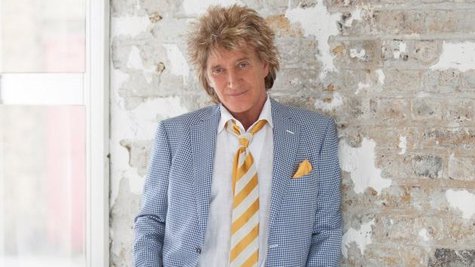 How'd you like to dress like Rod Stewart ? Folks who live the British town of Epping now have the chance...at a bargain price.
The Epping Forest Guardian reports that Rod and his wife Penny have donated some personal items to the local charity shop, which will benefit a children's hospice. Rod handed over a Ralph Lauren dinner jacket and a pair of boots, while his wife gave a pair of designer shoes, a Dolce & Gabbana evening bag and some toys used by their sons Alistair and Aiden .
And speaking of Rod's sons, in other news, one of the singer's older sons, Liam , has been pre-selected to play on Britain's Under 20 World Championship ice hockey team.
According to the Daily Mail , 18-year-old Liam Stewar t, Rod's son with his ex-wife Rachel Hunter , normally plays with the Spokane Chiefs, a junior team that's part of the Western Hockey League. Though he was raised in the U.S., he was born in London, which makes him eligible to play for Britain in the championship this December. Only 22 will actually make it to the championships, though, so Liam will have to wait and see if he makes the final cut.
Copyright 2013 ABC News Radio