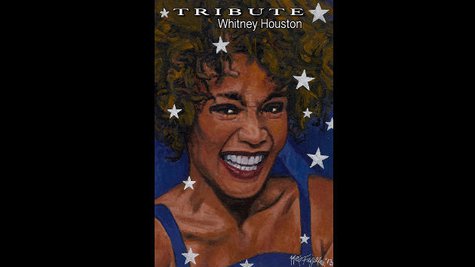 It's hard to believe that this Friday would have marked Whitney Houston 's 50th birthday. To honor the late singer, who passed away in February 2012, Bluewater Productions is issuing a comic book about her life.
In the 32-page comic , titled Tribute: Whitney Houston , readers will be able to relive how Houston broke records in the music and movie industries.
In the comic's description, the singer is described as " an idol to millions and adored all over the world " who was " tragically taken away " by the " demons of her past ."
"I was very excited to get the opportunity to illustrate Whitney Houston, one of my personal favorite singers," says the book's artist Neil Feigeles in a statement. "Hopefully what I've come up with would make her happy. And hopefully the fans, will think I did her justice."
Whitney joins the legendary Michael Jackson , who was also a su bject featured in the publisher's "Tribute" line of comics, along with Elizabeth Taylor , Marilyn Monroe and James Dean .

The book is available for purchase on iTunes and ComicFleaMarket.com now.
Copyright 2013 ABC News Radio