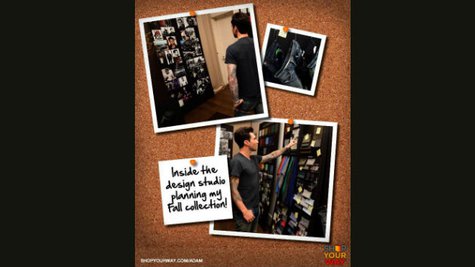 Maroon 5 's tour with Kelly Clarkson won't wrap up until the beginning of October, but singer Adam Levine has plenty of stuff going on as he performs all around the country. Not only does the new season of The Voice start September 23, but his first-ever clothing line will launch in mid-September.
The Los Angeles Times reports that the exclusive-to-Kmart collection, simply called Adam Levine, will arrive September 15 at Shopyourway.com , followed by a rollout to Kmart stores on October 1. The collection features denim, outerwear, knits and wovens priced from $14.99 to $69.99, as well as accessories priced from 10 bucks to 17 bucks apiece.
A series of promotional online videos shows Adam choosing designs and patterns for specific items in the collection. The message: he's hands-on, intimately involved with the process, and didn't just let them slap his name on it. In another video, he calls getting the opportunity to do a clothing line "weird and cool and amazing and fun," adding that he wants to make something "universal and basic and classic enough so that anybody can like it, regardless of who you are."
Clothing is in Adam's genes, no pun intended. His dad, Fred Levine , owns a string of clothing stores in California.
Copyright 2013 ABC News Radio