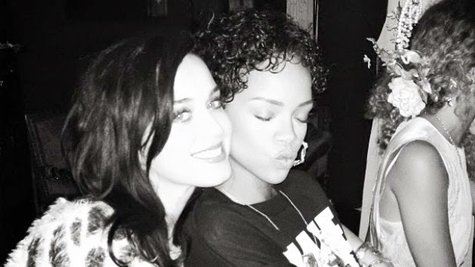 Reunited, and it feels so good. BFF's Katy Perry and Rihanna reconnected Monday night at Katy's pre-album release party in New York City, and both women proudly posted the evidence.
Rihanna Instagrammed a black-and-white photo of her and Katy at the party with the caption, "She. X She. #KatyAnna #RIHunited ." Katy retweeted it to her followers.
The photo should quash any rumors that the two stars had some sort of falling out over Katy's recent comments to ELLE UK . Directly after gushing about the "light" that Rihanna has, Katy added, "I know a lot of people out there with the most detrimental entourages -- they are the root of their demise. It's really unfortunate but you can't save these people. My days of celebrity saving are over."
Many believed that Katy was referring to Rihanna with that comment, and there were rumors that Rih was angry about it, but it appears that all is well.
As for the party, Katy was celebrating the fact that her new single "Roar" instantly zoomed to the top of the iTunes charts after it was released on Monday. "Having a much deserved cheers after a long day. I'm lifting my glass to ALL of you, couldn't have done it without you. CHEERS TO YOU #ROAR," she tweeted .
Copyright 2013 ABC News Radio