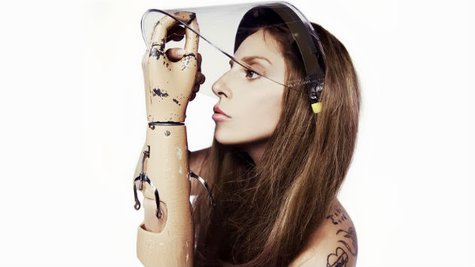 Lady Gaga promised fans that the video for her new single, "Applause," would come out the same day as the single. But since she was forced to rush-release the single after it leaked online, she can be forgiven for taking a bit more time.
Gaga will premiere the video for "Applause" Monday on ABC's Good Morning America , and will be live in studio to discuss it. That's the day the single was originally supposed to be released, so she's actually on schedule.
Not much is known about the video, other than the fact that she collaborated on it with Inez & Vinoodh , the team who shot her "You and I" fashion films back in 2011, and who designed the artwork for the "Applause" single.
Meanwhile, Gaga is delighted by the strong response to "Applause." She wrote on her Facebook page, in all caps, " IM ON THE RADIO I CAN'T BELIEVE IT! IT FEELS LIKE THE FIRST TIME! THANK YOU SO MUCH FOR YOUR *APPLAUSE,* WE ARE SO HAPPY YOU LOVE IT!...I LOVE BEING A POP STAR!"
At the same time, Gaga has released a bizarre film clip that appears to address a lot of the criticism that she's heard over the past couple of years. Titled Lady Gaga Is Over , it features Gaga, naked from the shoulders up, standing in front of a white background, wearing a plastic headpiece/visor combination over her slicked-back hair. As she stares into the camera, lights flash, we hear a chorus of boos, and we see the following words appear on the screen:
"If you don't like pop music, you should turn this off. Lady Gaga is no longer relevant. Ever since Born This Way, she's a flop. DO NOT buy her new single 'Applause' on iTunes. Give her no A-P-P-L-A-U-S-E. DON'T dance to the song at all. Do NOT buy ARTPOP on November 11. She's over."
Then, Gaga grasps two tabs that are sticking out of the sides of the visor thing and pulls, stretching them out, while grinning maniacally. The screen fades to black, "Applause" starts playing and we see the words "Stop the drama. Start the music."
Copyright 2013 ABC News Radio