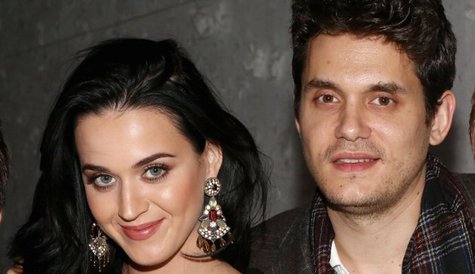 Katy Perry and John Mayer apparently do everything as a couple. On the same day that Katy officially released her new single, "Roar," her boyfriend on Monday debuted the duet they recorded for his upcoming album.
"Who You Love" made its way onto the Internet and can now be streamed on iTunes. It's a sweet tune in which John sings, "My girl, she ain't the one that I saw coming/Sometimes I don't know which way to go/And I tried to run before but I'm not running anymore/'Cause I fought against it hard enough to know/That you love who you love, who you love."
Katy responds, "My boy, he ain't the one that I saw coming/And some have said his heart's too hard to hold/And he takes a little time but you should see him when he shines/'Cause you never want to let the feeling go."
The song ends with Katy giggling.
"Who You Love" is one of the tracks on John's latest effort, Paradise Valley , which drops August 20. If you can't wait until then to listen to the album in its entirety, you can stream it for free on iTunes right now.
John will promote the disc with a performance on a Live on Letterman webcast premiering August 19.
Copyright 2013 ABC News Radio