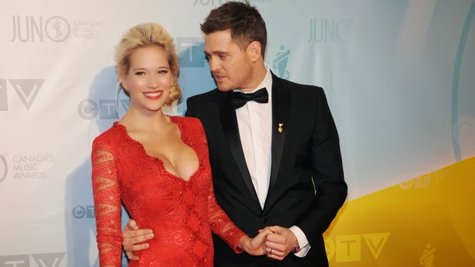 One of Michael Buble's big hits is "Haven't Met You Yet," and that's the way he feels about his first child. He and his wife Luisana are expecting baby boy Buble any minute now, and he tells ET Canada that they just can't wait.
"I don't know what to expect, because obviously, I've never expected before," Michael tells ET Canada . "I'm just really, actually enjoying [the anticipation]. To be honest, neither of us are anxious, we're just excited. We can't wait to know what it's like; we can't wait to meet this little guy."
Michael says Luisana's so close to giving birth that he's no more than 15 or 20 minutes from his Vancouver, Canada home at any given time. "It's scary for her," he says of his wife, who's a big star in her native Argentina. "She's in a country that's not her country, the people are speaking a language that's not her first language. So I've got her whole family here...it's a good support system."
As for his hopes and dreams for his son, Michael says his wife teases him that the kid will grow up to become a football player or tennis player, but he insists the kid will play one sport and one sport only: Michael's favorite, hockey.
"He will play for the Vancouver Canucks," Michael predicts. "He will be the wimpiest, smallest power forward ever."
Copyright 2013 ABC News Radio