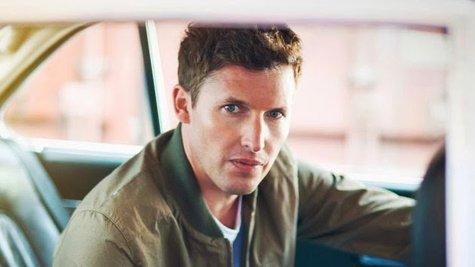 To promote his upcoming album Moon Landing , James Blunt has posted a video of himself performing an acoustic version of one of his new songs. He doesn't come right out and say who the song is about, but he strongly hints that the inspiration could be the tragic death of Whitney Houston .
The song is called "Miss America," and James writes on his website, "It's about a famous singer whose music you'll know, whose celebrity overtook her talent, and ultimately led to her downfall," adding, sarcastically, "Cheery stuff!"
In the song, whose melody recalls early Elton John , James sings, "Did someone give you something to help you ease the pain?/Like the liquor in a bottle, we watched you slip away/and I feel as if I know you, through the bars of a song/Always surrounded, but alone."
The chorus goes, "No goodbyes, you'll always be Miss America/We watched you fly/But nothing's free, Miss America/And as you fall apart/we just call it art/Was it so hard to breathe?"
Given that James is British, it's also possible that the song is about Amy Winehouse , who struggled with substance abuse and died tragically, just like Whitney did. However, in the lyrics, James makes reference to seeing the person "on my silver screen," and Amy never starred in a movie; Whitney, however, made many. In addition, the song is called "Miss America," and Amy, of course, was not American.
The British paper The Daily Mail states that the song is about Whitney, though James hasn't confirmed it.
The first official single from James' album Moon Landing is "Bonfire Heart," which was co-written by OneRepublic 's Ryan Tedder . The album will be out in October.
Copyright 2013 ABC News Radio