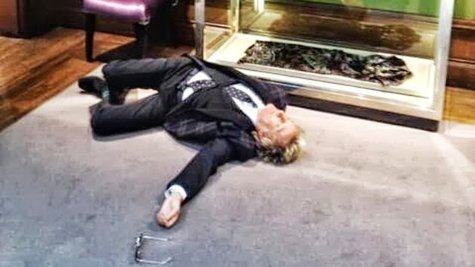 Rod Stewart's been a rock star for forty years, but he's still not jaded about the successes that come with that status -- like a platinum album, for example.
Rod tweeted , "Out shopping when I heard the news that [my album] Time is Platinum in the UK. Well knock me over with a feather!" He illustrated that with a photo of himself passed out on the carpet of what looks like a very expensive clothing store, wearing a suit and tie, with his sunglasses beside him.
All joking aside, Rod's pleased about the success of Time because it's the first album in years that features mostly original songs that he's written, as opposed to covers of other writers' material. The disc was Rod's first number-one album in his native U.K. in 24 years, and spent 12 straight weeks in the top five.
In less pleasant news, TMZ is reporting that Rod is being sued by a Hollywood personal trainer -- not because of anything he did, but because of something his son allegedly did.
The trainer, Randy Rene , has filed a suit in small claims court, saying that Sean owes him about $5,400 for helping rehabilitate him after a car accident. When Rene asked Sean for the money, Sean supposedly told him to get it from his medical insurance. Rene claims this didn't work, so now he's suing Sean for the payment. So why's Rod named in the suit as well? TMZ speculates that it's because Sean is covered under Rod's policy, and it's Rod who's got the deep pockets.
Sean is Rod's eldest son, one of two kids he had with his first wife, Alana Hamilton .
Copyright 2013 ABC News Radio