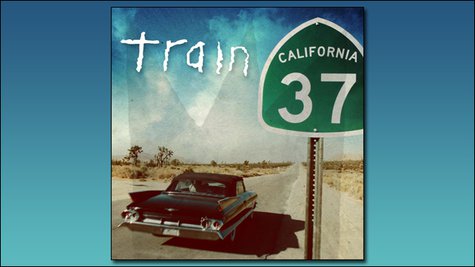 On Wednesday night, Train wrapped up their Mermaids of Alcatraz tour in support of their album California 37, and all the time on the road appears to have been worth it: the album's now gone gold.
The Recording Industry Association of America posted a picture of the gold plaque it awarded to California 37 on its Facebook page, and tweeted to the band, "congrats on your 5th @RIAA Gold album award! Good looking plaque too!" The album has now been certified for sales of at least half a million copies.
According to frontman Pat Monahan , the band has already got the concept for their next record ready to go. Pat says he's been working on material for the disc, which will go in a slightly different musical direction.
"I wanna make a rock record," he tells ABC News Radio, "Of course I'd like it to be on pop radio, but there's a thing that isn't happening anymore with, like, riff rock, and I miss it a lot." He adds, "It's hard to write a great guitar riff but I think we can do it, and so it's gonna be a lot of fun stuff like that."
One reason that Pat wants to rock out is because, he says, nobody else seems to be doing it, and he certainly doesn't want Train to try to compete with all the dance music that's out there these days.
"There's a hundred amazing riffs, from [ Deep Purple's] 'Smoke on the Water' to any Led Zeppelin , and lots of other classic rock bands," he explains. "But I think some of the new things...I don't even know if there's guitar in them anymore. So, I just wanna do that, because I don't wanna chase the other things that are happening right now. I think that that would be a huge mistake."
It'll be a while before Train actually enters the studio, though. The Mermaids of Alcatraz tour, which featured Gavin DeGraw , The Script and Ashley Monroe , may be over, but the band still has a number of live appearances scheduled through this month. After September 1, there's a break until 2014, when they'll set sail on their first-ever fan cruise , leaving from Miami on February 13.
Copyright 2013 ABC News Radio