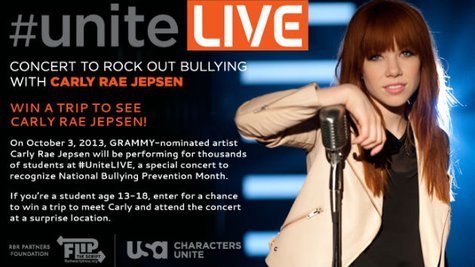 There's no "maybe" about it: bullying is wrong, and Carly Rae Jepsen is doing something about it.
To mark the fact that October is National Bullying Prevention Month, the singer has signed on to headline USA Network's #UniteLIVE: The Concert to Rock Out Bullying on October 3. The show will take place at a currently-secret location, but even though we don't know where it is, you can still win a trip there.
From now through September 10, middle and high school students aged 13 to 18 can enter a contest to score an all-expenses-paid trip to the show. Ten lucky winners will attend the concert and meet Carly Rae, as well as the stars of USA Network shows who'll also be on hand for the event. Visit CharactersUnite.com to enter.
Copyright 2013 ABC News Radio