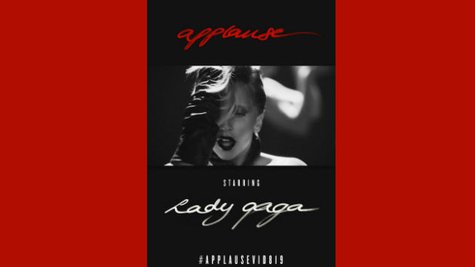 5, 4, 3, 2, 1...Gaga! It'll be as exciting as New Year's Eve for Little Monsters this Monday morning in New York City's Times Square, because that's where Lady Gaga 's new video will be debuting.
Gaga will appear live in studio on ABC's Good Morning America Monday to premiere the video, but via Twitter, she's also inviting fans to gather in Times Square at 8 a.m. ET to watch the video be unveiled on the giant screens surrounding the landmark location. And she's just a lil' bit excited for her fans to see it.
"I JUST WATCHED THE FINISHED APPLAUSE VIDEO I AM SCREAMING. THE WAIT IS KILLING ME," she tweeted .
As for what we can expect to see, Gaga also described the clip on Twitter as "A film in black+white, color, and hand painted film...A MusicVideo where B+W and Color battle in a bid for your Applause!"
The video was directed by Dutch photographers Inez & Vinoodh , who also shot the cover of Gaga's "Applause" single, and her partially-nude spread for V magazine. An image that Gaga posted on Twitter shows her in black-and-white, looking glamorous with her hair up, and her gloved hand on her forehead.
"It's inspired by the entertainer's passion for shapeshifting," she added. "Would you do 'anything' for the Applause?"
Copyright 2013 ABC News Radio