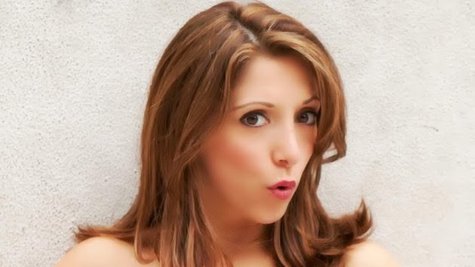 A week ago, few people had heard of Christina Bianco , a New York-based musical theater actress. But that was before a video that shows off her astonishing ability to mimic nearly two dozen top female vocalists -- from Adele to Shakira to Cher to Celine Dion -- went viral.
The video , filmed at the New York club 54 Below, shows Christina on stage, performing Bonnie Tyler 's "Total Eclipse of the Heart," and changing her voice every few lines to impersonate a different female diva as the emcee at the club calls them out, one by one.
Christina starts off with Adele, and then in the space of that one song, runs through Cher, Judy Garland , Patti Lupone , Kristin Chenoweth , Edith Piaf , Bette Midler , Julie Andrews , Liza Minnelli , Bernadette Peters , Gwen Stefani , actress/singer Zooey Deschanel , Britney Spears , Shakira , Alanis Morissette , Norah Jones , Christina Aguilera , Celine Dion and Barbra Streisand . Then she revisits a few, and ends with Adele. It's a tour-de-force that Bianco calls "Diva Moments."
Amazingly, Christina tells ABC News Radio that the night the performance was filmed, she really didn't know which singers she was going to impersonate until she started the song.
"I had a rough outline of what I wanted to do in my head," she explains. "But to make it fun for the audience, at this particular event, I had the host...hold a list of impressions of divas that I could impersonate. And I gave her a rough outline -- I said 'Start with this batch' -- and I didn't quite know exactly what order she was gonna say 'em in...it was pretty wacky!"
But what's even more amazing is that those 19 voices are just a fraction of the total number in her repertoire. Estimating that she can do "forty, fifty people," Christina says the viral performance was "a nice little taste of what I could do...and hopefully people will keep watching my videos and I can unleash more impressions to the world." She actually has done a similar video , in which she sings Katy Perry 's "Firework" as a number of different singers.
But the "Diva Moments" video raises a few questions. Like, why didn't she impersonate Mariah Carey and Whitney Houston , who are the personification of the word?
"Mariah Carey I, I stay away from because I feel like, if you can't do that whistle tone, you shouldn't do Mariah," explains Christina, referring to Mariah's signature ultra-high note. "And I, unfortunately, do not have that whistle tone. But Whitney Houston, I have done in the past, and I sort of put her on hold for a while, but now I'd be very happy to bring her back."
She also says she tried to incorporate two current chart-topping divas into the routine, but couldn't for an unusual reason.
"I tried Pink , and I also tried Kelly Clarkson ," she reveals, " And they actually have very similar voices. So, when I put [them] in the same song, they sounded a little too similar. It was hard for the audience to differentiate between the two. So, I'm working on a way to split them up."
That's if she has time, of course. Since "Diva Moments" went viral, Christina's email in-box has been full, her Twitter feed's on fire, and her phone's been blowing up with offers. "It has been insane," she laughs. "It's really been such a ride. My managers and I are fielding calls and e-mails all day, non-stop."
"Some of the opportunities are wonderful, great, ah, potential career moves for me," she adds. "It's all coming at me very quickly, so I'm trying to take it in and process it as well as possible!"
Copyright 2013 ABC News Radio