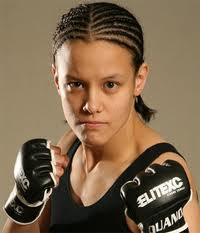 Sioux Falls, SD (KWSN) - Next Edge Academy fighter and Sioux Falls native, Shayna Baszler, will appear on the upcoming season of The Ultimate Fighter. The series, which features top fighters who compete for a six-figure contract, is on its 18th season and will be premiering on the new Fox Sports 1 network September 4th. This is the first ever season to showcase women and men in the same house. Baszler has been competing in women's mixed martial arts (MMA) for thirteen years and has a record of 15-8. While she does travel for training occasionally, she has spent most of her time here in Sioux Falls, South Dakota.
"I am really excited that they are showcasing the talents of women this season. Shayna has been at the top of the sport for a long time and it is fantastic to see the popularity of it continue to grow and for the accomplishments of womens' MMA to be recognized." said Bruce Hoyer, Owner of Next Edge Academy and trainer of Shayna Baslzer.
Press Release from the UFC "The new history-making season of The Ultimate Fighter is only weeks away. But the 32 competitors of the first season to feature women as cast members and coaches have now been revealed in a FoxSports.com exclusive. Only sixteen of the male and female bantamweight (135lbs) fighters—from the United States, Canada, England, Ireland and Sweden—will make it into the TUF House, where they will face-off in the toughest sports tournament on TV. "This season of The Ultimate Fighter was monumental, as we had women as coaches and competitors – fighting and living together with the men – for the first time ever," said UFC President Dana White. The premiere episode on September 4 will determine the eight men and eight women who will be divided into teams coached by UFC Women's Bantamweight Champion Ronda Rousey and her arch-rival Miesha Tate.
Courtesy: Next Edge Academy and UFC