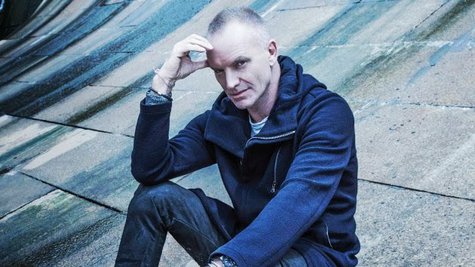 Sting has posted a couple of videos online that will help fans prepare for the release of his latest album, The Last Ship , which hits stores on September 24. The recording was inspired by the former Police man's upcoming stage musical of the same name, which tells the story of a family's struggle to survive the decline of the shipbuilding industry during the 1980s in Sting's home area -- the Tyneside region of northeastern England.
One clip that's viewable at Sting.com features footage of the 61-year-old musician in the studio with various musicians who contributed to the album. In the video, Sting talks about the traditional music native to Tyneside, elements of which he incorporated into the songs on The Last Ship .
"I was born and raised in Wallsend on the river Tyne, and it attracted massive immigration from Ireland, from Scotland," he explains. "So, the folk music of Tyneside is an amalgam of Celtic music, local Northumbrian music typified by the Northumbrian pipes…which comes from where we live…It's a very rich area, musically."
Sting goes on to note, "A lot of music sounds like it was made in a pub -- you know, people drinking pints of beer and playing and singing. So, we tried to recreate that in the studio [and] that atmosphere will be part of the record."
In addition, Sting has posted a video on YouTube that gives fans get a taste of all 12 songs from the standard version of The Last Ship . Each snippet is a minute long and viewers can choose what tune they want to sample by clicking on a menu of titles located along the bottom of the screen.
As previously reported, Sting will celebrate the release of The Last Ship with a series of 10 intimate concerts in New York City. The shows will take place from September 25 through October 9 at the 260-seat Anspacher Theater and will benefit the city's Public Theater arts organization.
Copyright 2013 ABC News Radio