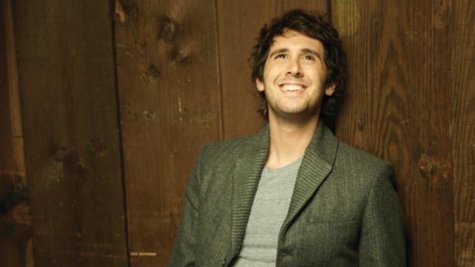 T he Crazy Ones, a new CBS sitcom starring Robin Williams and Sarah Michelle Gellar as a father and daughter who work in the same advertising firm, is shaping up to be a very musical show. Part of the plot of the first episode revolves around Kelly Clarkson , and now Josh Groban is set to drop by later in the season.
Entertainment Weekly reports that Josh will appear on the sixth episode of the show -- not as himself, but as a guy named Richie who's an old friend of Gellar's character. When he tries to pay her back for something nice she did for him in the past, she misinterprets his actions. Williams' character then gets involved and gets an idea from Richie that helps the firm land a big account.
In the past, Josh has guest-starred on Glee, The Office, CSI: NY and, years ago, Ally McBeal.
As previously reported, in the first episode of The Crazy Ones , which premieres September 26, Williams must convince Kelly Clarkson to sing a McDonald's commercial, but all she wants to do is sing about sex.
Copyright 2013 ABC News Radio