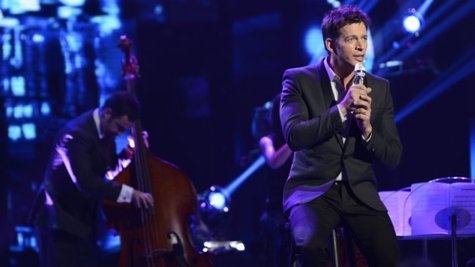 Let's hope American Idol viewers are just wild about Harry -- because Harry Connick Jr. has reportedly locked down the remaining spot on the show's judging panel.
Both The Hollywood Reporter and E! Online say sources have confirmed to them that Harry, who's been a mentor on the show several times, will be joining Keith Urban and Jennifer Lopez for season 13. According to the Hollywood Reporter, Idol head honcho Simon Fuller hosted a party Thursday evening with Randy Jackson -- who will be a mentor on the new season -- and Keith, J-Lo and Harry were all there to join in a champagne toast.
The Hollywood Reporter claims that the show had really wanted to hire a behind-the-scenes music industry pro for the third spot, but when Justin Bieber's manager Scooter Braun and super-producer Dr. Luke both passed, it had to move quickly or face a possible production delay.
E! reports that back in May, Harry told them that he'd been approached to be a judge on the show. At the time, he told E!, "What I've done thus far on the show has been really fun, so I've had a great time." He added, discussing what his approach to judging would be, "I think you need to be completely honest, and I think you need to be diplomatic. I think there's no reason to be mean, but it is called being a judge. You have to judge. That's what you do."
During season 12, Harry made it very clear that he had no problem speaking his mind, even getting into a verbal altercation with Randy Jackson over the way in which runner-up Kree Harrison approached a song.
Fox tells ABC News Radio that it has no comment on the reports.
Copyright 2013 ABC News Radio