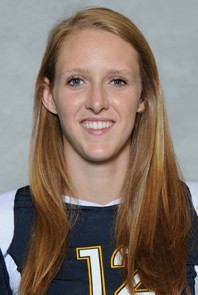 TOPEKA, Kan.(KWSN) - Augustana middle blocker Holly Hafemeyer was named to the Daktronics All-Central Region first team in a release on Tuesday morning.
The Daktronics all-region teams are voted on by the sports information directors within each district and Hafemeyer is now eligible for the Daktronics Division II Volleyball All-America team. Hafemeyer becomes the third Viking to earn Daktronics All-Central Region honors.In her senior season, Hafemeyer led the Vikings in nearly every offensive category.
While swinging at a team-high .362 clip, Hafemeyer led the Vikings with 445 kills for an average of 4.32 per set. Hafemeyer's 4.32 kills per set ranked second in the Northern Sun Intercollegiate Conference behind Daktronics Central Region Player of the Year, Kate Lange of Minnesota Duluth.A Faribault, Minn. native, Hafemeyer also tallied a team-high 117 blocks and her 1.14 blocks/set ranked second in the NSIC.
Hafemeyer's 11-block match against Northwest Missouri State was one of an Augustana record and earned her NSIC Defensive player of the week.Hafemeyer was named to the All-NSIC first team for the third consecutive year and earned a host of in-season awards.
On top of NSIC defensive player of the week, Hafemeyer earned NSIC offensive player of the week twice and a back-to-back career-kill performance earned her AVCA National Player of the Week on Nov. 12, 2013.With 445 kills this season, Hafemeyer became the 21st member of Augustana's 1,000-kill club.
In her career, Hafemeyer has tallied 1,193 kills which ranks ninth in Augustana history and her career 3.59 kills per set mark ranks third all time.Augustana finished the season 22-8, 14-6 in NSIC competition which placed them fourth in the NSIC standings.
The Vikings were ranked ninth in the final NCAA Central Region rankings, missing the NCAA Central Region Tournament by one spot.
Courtesy: Augustana College