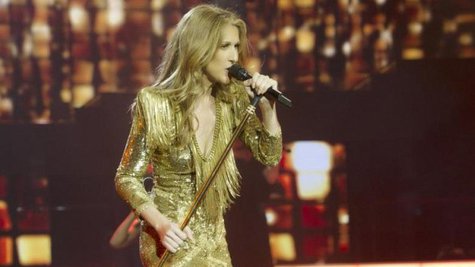 Ever since the launch of her first Las Vegas show, A New Day, back in 2003, Celine Dion has been credited with making it acceptable -- and even desirable -- for big-name stars to perform regularly in Sin City. And while the diva won't take all the credit for the fact that now acts ranging from Shania Twain to Motley Crue all have residencies in Vegas -- and Britney Spears is about to start one -- she will say that her show served as research material for stars who were interested in exploring the possibility.
Speaking to the Los Angeles Times , Celine says that numerous stars -- " Michael Jackson , Prince , I can't name them all" -- had all come to see A New Day when it first launched, because they wanted to see if it might be a viable option for them, too.
"They were all interested -- like, 'How is it?'" she tells the paper. "They were very curious about whether it was really possible to do it in Vegas." And so what did Celine tell them? The same thing she says she'd tell Britney if the younger singer asked her: "It's a great opportunity to be a parent, to raise your children and to be the entertainer you want to be."
Celine's next series of Vegas dates will begin December 30 in her current self-titled show at Caesars Palace. The Times reports that she plans to add a handful of songs from her new album Loved Me Back to Life to the set.
Copyright 2013 ABC News Radio