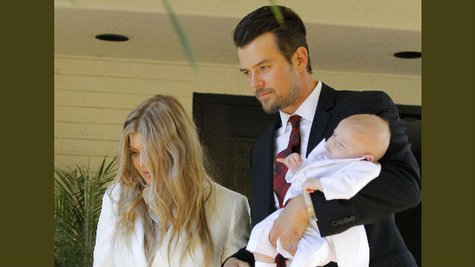 Fergie and her husband Josh Duhamel will have a very special Christmas this year: it's their first one as parents to son Axl Jack , who was born in August. And Fergie says that she thinks the perfect gift for her son is something that money just can't buy.
"Woohoo! First Christmas with Axl!" laughs Fergie to ABC News Radio. "First of all, his name means the 'Father of Peace,' so we're trying to bring some peace into this little man's life." And to that end, Fergie says, she's going to give her baby some special attention for the holiday.
"I think the present that he would most want is to be held all the time. I think that's really what a child wants the most," Fergie tells ABC News Radio. "It's hard because you want to give them independence and teach them independence, to be able to self-soothe, but when they're complaining and cranky you just want to pick them up and hold them and nurture them. So I think a little extra holding [is what he wants]."
Of course, when it's not Christmas, Fergie says that she and Josh probably end up holding Axl a little too much. "We get suckered into it. He manipulates us. It's hard to say no!" she laughs.
Following the Christmas holiday, you'll be able to see Fergie on TV hosting the West Coast Party segments of Dick Clark's New Year's Rockin' Eve with Ryan Seacrest, which airs December 31 on ABC. She'll also team with Ryan and Jenny McCarthy to host a primetime special that same night called New Year's Rockin' Eve Presents the 30 Greatest Women in Music, which starts at 8 p.m. ET. No word on whether or not she's among those 30 women.
Copyright 2013 ABC News Radio