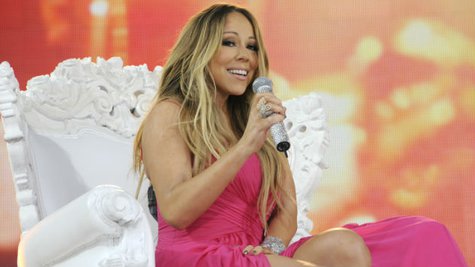 What would be better than having Mariah Carey serenade you and your loved one on Valentine's Day? Well, imagine if that serenade was a private concert for only the two of you -- and it took place in her own house. Well, in the name of charity, Mariah is going to "Make It Happen," as she once sang, for one lucky couple.
The diva is teaming with the online crowd-funding site Prizeo.com to offer her fans an amazing opportunity, all the while raising money for a good cause: St. Jude Children's Research Hospital, which not only works to end childhood cancer, but offers free treatment.
She writes on Prizeo's website , "I've decided to give back and raise some funds for the incredible St. Jude Children's Research Hospital, a cause very close to my heart as a mom. In exchange for a small donation, you will be entered to win a trip to New York City (I'll fly you from WHEREVER you are in the world) to visit me in my home, where I will give you and a loved one your very own private concert... on Valentine's Day!"
She adds, "I wanted to do something extra special for such a magical organization, and I thank you dearly for all of your support. I look forward to meeting and sharing a very special moment with one of you."
The goal is for Mariah to raise $250,000 by January 31. All you need to do is log onto Prizeo.com/Mariah5, and donate a small amount, which will automatically enter you into the contest. The drawback is that you have to be 18 years old.
In addition to getting a crack at the grand prize, you can win special goodies from Mariah depending on how much you donate. Among the items up for grabs: autographed photos, exclusive t-shirts, a personalized thank you video, a signed lyric sheet and more.
Copyright 2013 ABC News Radio