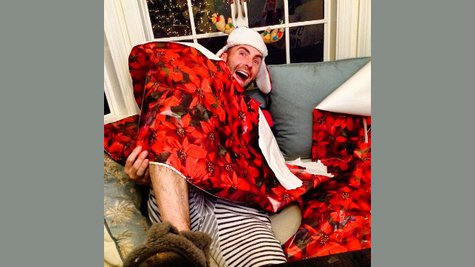 How many women out there would love to find Adam Levine under their tree this Christmas? Perhaps that's why his fiancee has posted a photo on Instagram depicting what it would look like if that actually happened.
Victoria's Secret model Behati Prinsloo posted a photo of someone -- obviously a guy, judging by the hairy legs -- sitting on a sofa covered by wrapping paper printed with poinsettias. She captioned it, " My ghost of Christmas present.....get it get it? "
She then posted a second photo revealing that the person covered with wrapping paper is Adam, who has a goofy look on his face and is wearing one of those plaid, fleece lined caps with ear flaps -- but this one also has reindeer antlers attached to it. Fuzzy slippers and what looks like striped long johns complete his holiday look.
Ironically, it's unlikely that Adam celebrated Christmas growing up, since he's Jewish.
Copyright 2013 ABC News Radio