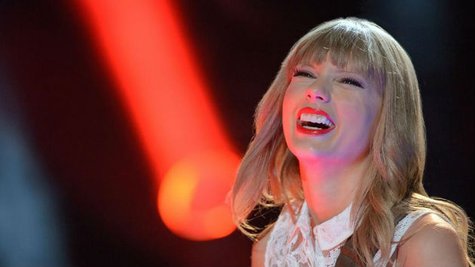 In addition to thrilling fans worldwide with her RED tour, Taylor Swift also spent a lot of time in 2013 giving back. That's why she tops this year's list of the most charitable celebrities, issued annually by the non-profit organization DoSomething.org.
Each year, DoSomething.org, which encourages young people to get involved in social change, releases a list of its top 20 "Celebs Gone Good," and Taylor's #1 this year, as she was last year. Among her philanthropic work in 2013: donating $100,000 to the Nashville Symphony orchestra, and performing at a gala benefit in London to help homeless youth.
Number two on the list is One Direction who, among other things, raised thousands of dollars for cancer research and did volunteer work in Ghana. Beyonce is number three: she headlined a charity concert in London for women's rights, among other activities.
Other musicians on the list include Carrie Underwood , who donated $1 million to the Red Cross to help victims of the deadly tornadoes that devastated her home stage of Oklahoma, and Alicia Keys , who headlined the Global Citizen Festival in New York City, helping to raise awareness of extreme poverty. She also helped survivors of Typhoon Haiyan, and celebrated the 10th anniversary of her annual Black Ball charity event, which raises money for her Keep a Child Alive foundation.
DoSomething.org puts together its list each year based on nominations from the public, the stars' rankings on IMDB.com, and information from a panel of entertainment journalists.
Copyright 2013 ABC News Radio