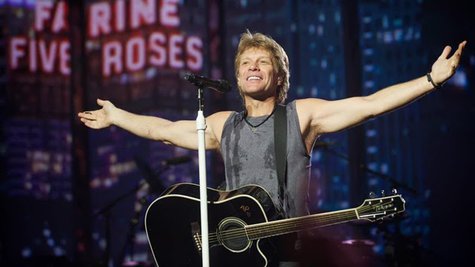 It was good news and bad news for Bon Jovi in 2013. The good news: A chart-topping album and the highest-grossing tour of the year. The bad news: Their guitarist walked out on them mid-tour, and their drummer faced two life-threatening medical problems.
In October of 2012, Bon Jovi did something risky by putting tickets on sale for their 2013 Because We Can world tour before their new album had even been released. They kicked off that world tour in February, even though the album, called What About Now , still wasn't out. When it finally arrived in March, it became Bon Jovi's third straight studio effort to debut at #1 on the Billboard 200, and their fifth #1 album overall. As for the tour, it went around the globe and ended up as the top-grossing trek of the entire year, earning more than 205 million bucks over 90 sold-out shows.
The fact that the tour was able to sell out worldwide was even more impressive, considering the fact that in early April, Bon Jovi guitarist Richie Sambora walked off the tour with no explanation. He was replaced for the remainder of the trek by guitarist Phil X , as rumors flew about the "real" reason for Sambora's absence. There was much speculation that either drugs or disagreements over financial arrangements had caused the split, as well as rumors that frontman Jon Bon Jovi had fired Sambora. All those rumors were denied.
Finally, the guitarist revealed that he'd simply needed a break for what had essentially been 30 years of non-stop touring, and that he wanted to spend time with his teenage daughter and, later, his ailing mother. He didn't rule out rejoining the group either, saying there was "no malice" between him and Jon.
As if being down a guitarist wasn't bad enough, during a two-week period in September, the band twice lost their drummer, Tico Torres : first to an emergency appendectomy, and then to gall bladder surgery. Drummer Rich Scannella filled in for Torres, but several shows had to be either postponed or canceled. In a statement announcing those changes, Jon Bon Jovi said, "Tico Torres has been the heart and soul of our band since we started 30 years ago. He's also one tough SOB."
2013 also saw continuing proof of Bon Jovi's enduring, multi-generational appeal. They were nominated for Favorite Music Group at the Nickelodeon Kids' Choice Awards, alongside such young acts as One Direction . In November, their classic hit "Livin' on a Prayer" re-entered the Billboard Hot 100 at #25, thanks to the sudden popularity of a viral video , shot in 2009, that shows Boston Celtics fan Jeremy Fry dancing his heart out to the tune in the stands at Boston's TD Garden. Also in November, Jon Bon Jovi performed at a benefit in London hosted by Prince William . The heir to the British throne, as well as country-pop superstar Taylor Swift , joined Jon onstage to belt out "Livin' on a Prayer": They knew every word. Later, Jon said of the prince, " He was a great sport, and I assure you all the man can sing."
Among the personal highlights for Jon in 2013: his 18-year-old son Jesse Bongiovi was chosen as a member of the University of Notre Dame's football team, and in July, the singer donated $1 million to a fund that's helping New Jersey communities recover from Hurricane Sandy.

Copyright 2013 ABC News Radio