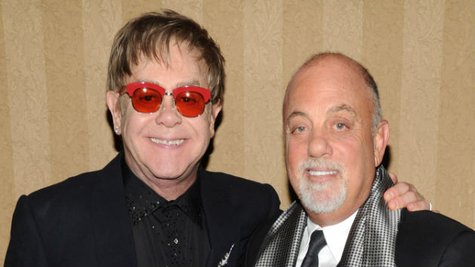 2013 saw the return of both Elton John and Billy Joel: one to the top of the charts, and one to the stage.
Billy Joel
Billy Joel hadn't toured the U.S. since early 2010, when he and Elton John finished the latest installment of their Face to Face tour; it had been even longer since his last solo tour. But the great response to his set at the Hurricane Sandy benefit concert in December of 2012 evidently got Billy thinking about returning to live performance.
In 2013, he surprised fans by booking appearances at the New Orleans Jazz Fest and at Australia's Stone Music Festival, and gave a series of high-profile interviews in which he mused that if he was happy with those performances, he'd consider doing more. He also floated the idea of playing rarities, instead of just the hits that he'd become tired of performing.
That idea came to fruition in October, when Billy played a intimate charity show in Long Island that featured little-known album cuts alongside some of his biggest songs. He used that set list model during a brief tour of the U.K. and Ireland, to rave reviews. Next came the announcement of a New Year's Eve show at Brooklyn's Barclays Center: his first solo concert in the New York City area since 2008, and his first solo arena, rather than stadium, show in New York City since 2006.
Then came the really surprising part of Billy's return to the stage. After scheduling some 2014 concerts in Florida, along with four shows in New York's Madison Square Garden over four months, Billy announced that he'd be doing the first-ever residency at the Garden, becoming a "franchise" at the legendary arena, just like the Rangers and the Knicks. The plan? To play one show per month, "as long as there is demand." By mid-December, he already had shows scheduled through September, including a May 9 concert that will fall on his 65th birthday.
Another highlight of Billy Joel's 2013 was receiving the Kennedy Center Honor from President Obama, along with talents including Carlos Santana and actress Shirley MacLaine ; that ceremony airs tonight on CBS. On a personal note, Billy saw his daughter Alexa Ray Joel star in a Gap campaign, for which she re-imagined her father's song, "Just the Way You Are."
You can check out Billy New Year's Eve on ABC: after the clock strikes midnight, he'll appear via satellite from his New Year's Eve show in Brooklyn, NY to perform one of his classic hits on Dick Clark's New Year's Rockin' Eve with Ryan Seacrest.
Elton John
Elton John's 2013 started off on a high note, as he and partner David Furnish welcomed their second son, Elijah Joseph Daniel Furnish-John , on January 11. Musically, the year saw him focused on the release of The Diving Board, Elton's first solo album since 2006. After launching an extensive media blitz that saw him sitting for numerous interviews worldwide, The Diving Board entered the chart at #4, making The Diving Board Elton's highest-charting solo album in the U.S. since 1976's Blue Moves .
Elton described The Diving Board as "probably one of the best records of my career...piano-wise and vocal-wise and songwriting-wise." A collaboration with longtime lyricist Bernie Taupin and producer T Bone Burnett , the record featured a more stripped-back, organic sound inspired by Bob Dylan's 2006 album, Modern Times . With The Diving Board, Elton said he came to the realization that he's not chasing hit singles anymore, and is relieved that his record company isn't demanding them, either. He told The Hollywood Reporter that he's only focused on one thing: "trying to improve as a piano player and as a singer," adding "All I want to do is enjoy my music. I still love playing live."
Elton continued to perform live throughout 2014, both in Las Vegas and around the world, but in July, he was forced to put his tour on hold when he suffered an appendicitis attack and had to undergo surgery. "I could have easily died at any point. Your sense of your mortality kicks in. This is a wake up call for me, it really is," he said at the time, and claimed that he plans to drastically cut back on his touring in the future. Still, Elton returned to the stage in September, performing on a TV special that honored him as the first-ever Brits Icon Award winner.
Elton also made his first-ever appearance on the Emmy Awards, saluting the late TV icon and piano player Liberace , and gave several concerts in Russia, during which he spoke out onstage against that country's anti-gay laws. In 2013, Elton also performed at the Grammy Awards with British newcomer Ed Sheeran , duetted with Lady Gaga on her ABC Thanksgiving Night TV special, celebrated the casting of actor Tom Hardy in Rocketman , an upcoming movie about his life, and even found time to collaborate with a number of alternative rock acts, including Fall Out Boy , Queens of the Stone Age , and Jack White .
Copyright 2013 ABC News Radio