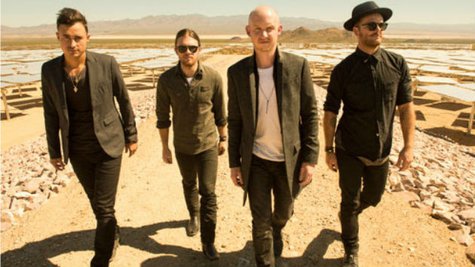 Usually, people make New Year's resolutions about themselves: they want to lose weight, stop smoking, stop cursing, find a relationship, things like that. But Isaac Slade , lead singer of The Fray , says his resolution is all about puppy love -- as in, an actual puppy.
Isaac tells ABC News Radio that he has several resolutions, but one of them involves helping his dog become a happier, more adjusted pooch. "She was a litter of one...they call it a singleton, like a single child, which basically means she does not play well with others," laughs Isaac. "So I'm gonna try to take her on more walks, introduce her to some dogs, maybe get a little dog training."
He adds, addressing the pooch, " Norma , if you're listening, get ready. It's gonna get real around the Slade house!"
As for Isaac's longtime buddy and band mate, Fray guitarist Joe King , his resolution is pretty life-changing. "I'm engaged, and so we're planning our wedding," he tells ABC News Radio. "And so I wanna finish the planning...we're gonna go food tasting soon. [We're] getting married in New Orleans....so, yeah, [to] plan the wedding [is my resolution]."
The Fray has a new album coming on February 25 called Helios ; they'll ring in 2014 on Dick Clark's New Year's Rockin' Eve with Ryan Seacrest, airing Tuesday night on ABC.
"It's one of those shows that's just been around forever," Isaac says of playing the annual telecast, which has been airing for more than 40 years. "And when we heard that we got the gig...it was crazy. 'Cause, we do a lot of cool stuff, and sometimes it's things we've heard of, [but] usually, they're first-time things. But for this, it's a perennial. It's awesome!"
As for Joe, he says he's got plenty of childhood memories of watching Dick Clark's New Year's Rockin' Eve as a kid, but they weren't always fond memories.
"My family always had it on," he recalls. "When I was a little tyke, like, little Joey with his blankie, falling asleep on the couch, my older siblings were like, 'Joey! You've got two more minutes!' And my eyes would barely open, and I'd see Dick Clark . And then there'd be, like, ten more seconds, and [they'd yell], 'Get up!'"
He jokes, "So that was my childhood. Very traumatizing!"
Copyright 2013 ABC News Radio