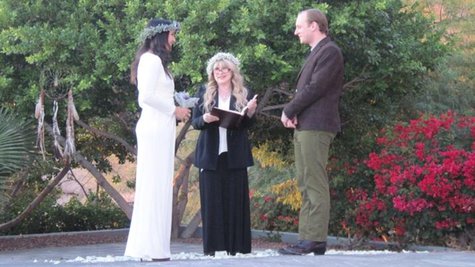 Vanessa Carlton , best known for her hit "A Thousand Miles," married John McCauley of the band Deer Tick on Friday evening. Carlton, who is 33, tweeted , "Married this gentleman two hours ago xo." She also posted a romantic photo of the happy couple on their wedding day.
Carlton also reveals that Stevie Nicks of Fleetwood Mac officiated the wedding. She tweeted Friday night, "Thanks Stevie for marrying us," along with a photo of Nicks standing between them as they exchanged their vows.
Two months ago, Carlton was diagnosed with an ectopic pregnancy, which means that the embryo was not developing in the uterus, as usual, but instead had settled in her fallopian tube. In this situation, the pregnancy is considered non-viable, because the embryo doesn't have room to develop, and the mother is put at high risk for internal bleeding. She had to undergo emergency surgery, which forced her to cancel part of her tour.
Copyright 2013 ABC News Radio